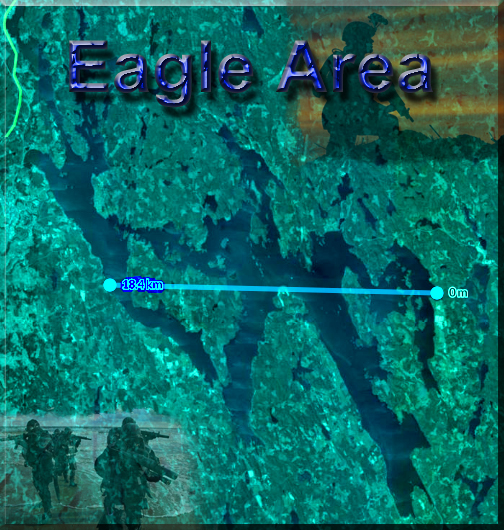 Operation Eagle

Type of environment
Marine area
Dates for events
Normally between end of Aug. - end of Sept.

Type of events here
Marine Mil.Sim. & Mil.Ex.
Level of difficulties
5 - Mil.Ex. Grade One
5 – Mil.Ex. Grade Two


Eagle is a Marine Mil.Ex., so bring wet suits, dry suits, inflatables or whatever you like that floats. Water ways are used frequently in this event.
SSMG provides with boat rides for those that do not have boats, so no worries. You don´t need anything, you´ll make it through anyhow.
Game start:
It is Operation based; which means that after check-in, which is outside the game area - you proceed in to your operational zone. You are not allowed to know anything about opposing forces or meet up and talk. Check-in, insertion, insertion route and insertion method is highly classified. Only SSMG knows!
What does this mean for you as an operator?
You have to be ready for anything. This means that your stuff (all your gear incl. weapons) needs to be at a level of minimum IP67 (IP description?). You can be asked to do anything at any time, in any ways, at any time of the hour, in any weather, regardless if you think it is right or wrong.
SSMG/Operators mental priority list:


- Highest -
Nr.1 - Safety.
Nr.2- Mission outcome and success.
Nr.3- Your Experience.
Nr.4- Your learning curve.
Nr.5- Your comfort zone.
Nr.6- Your basic needs. (Food, water, psychological issues, love, huggs etc. )
- Lowest -
SSMG Special Operations area:
The area is Swedens 20th largest lake - Sommen 132 km2 with 365 islands and a shore line of 208km.
Sign up for service
This is done on www.ssmg.se after login - sign up for Eagle, make payment and your done. After that consider your way of operating.


Consideration: How will you operate?
Swimming: Always an option.
Not always possible to reach the shore line by boat, Not always safe/stealthy to go in with an engine sound.
Two operational ways:
Self sufficient or Cooperative.
Self sufficient:
Own independent means of transportation. E.g. own boat, canoe, kayak, boat or swimming.
Cooperative:
Depending on external source for transports in co-op with NTCC unit.

Options:

- By own boat.
- By own canoe/kayak.
- Swimming only.
- NTCC reliance. (external boat crew).

Area setup
SSMG has made the decision, just too really secure marine operations, with equal terms for everyone, that the area is to be split in to two separate areas connected to each other with water in between. The rules are simple; the only way you can make it in to enemy territory is over water. The whole point is not to paddle around on open water just so we can call it marine operations, but rather that units have to engage in tactical thinking when it comes to actually providing safe operations on water and applying tactical thinking on both protecting own regions and also taking the fight to the enemy. The area might seem very large with kilometers of water, but not to forget that these vast regions of water are only highways and easily covered with one or two men patrolling them, observing from an elevated point or a strategic outpost. Another good thing is that radios go a long way on open water which also makes the area smaller.
Marine events are all about tactical planning, that is if we want to keep the realism as far as possible.  If you wake up with the enemy in your back yard, then you can assume that they have succeeded with something that you haven´t.
You can run, but you can´t hide on open waters which corners players in to actually start thinking. Going toe to toe directly with the enemy in a traditional way will most likely not work very well for you here. The most extreme and tactical in these cases will win. Every option will have to be taken in to consideration to gain a tactical advantage. You might not even be able to approach enemy territory until night falls. You might have to send in volunteers or commandos to take the long swim in to secure a forward strategic island just for others to make it in, and so on. All these are just assumptions and questions that can only be answered by those who actually are willing face the blue shores and the enemy that is waiting for them at the horizon of the far cry.
The most prepared will make it best.
The map says:
-          You can´t take any vehicle/land transports in to enemy territory. 
-          You can´t flank around and walk in to enemy territory. Only water passage.



Lake info
Its area is 132 km² and is Sweden's 17th largest lake. Its greatest depth is 60 m (although deeper places are found every year). The lake is located in southern Sweden, and is bounded by the provinces of Östergötland and Småland.
The lake is a clear-water lake, with a visibility of 9–11 m in the eastern parts of the lake. This makes lake one of the greatest clear-water lakes in Sweden.
According to tradition it has 365 islands, one for each day of the year. The actual number is around 350.
SSMG informs
SSMG has operated people on water since 2008. We have developed good routines during the years giving us a leading advantage within the field of Marine Operations. Taking airsoft to another level and sticking to our multi-level concept.
SSMG is starting a brand new Era within our own concepts. Marine airsoft! Eagle operations will be our marine version of Tango.
Here´s the split
Operation Tango:
Main missions on land – Mil.Sim (level 1-4), Mil.Ex. (level 5 grade one)
Operation Eagle:
Main missions in marine environment - Mil.Sim (level 1-4), Mil.Ex. (level 5 grade one)
Operation Yeti:
Main missions in arctic environment - Mil.Ex. (grade 1 & 2)
Hunter Force Missions:
Mission based activity within all fields above.
OPERATION EAGLE
SSMG is always working on taking your airsoft to new levels. Our main mission is to provide you with fantastic experiences, good hard exercising in a fun way with wonderful and memorable moments. We believe that Eagle operations – only taking the environment per se in to consideration, is a truly fantastic and unique experience. Proceeding with marine operations in September at the end of the Swedish summer in a scenic environment is equal to true epic moment's regardless weather. That´s why we believe this could be worth giving a shot.
Remember our three marine mottos:
- Everything can be made waterproof.
- If a problem has a solution, it´s not a problem.
- You are waterproof.
You vs water
Everyone will end up encountering water in one or the other way, either in it, or on it. Therefore all gear needs to be waterproof. You have to take in to consideration that you could end up in water unwillingly, by e.g. your canoe flipping over or that you have to abandon a vessel for some reason. A situation like that should not mean the end of your gaming, it should rather be a natural thing that you count on happening instead of ignoring the possibility that it could occur. Everyone should be prepared to jump a boat and swim to shore. A good drysuit is recommended.

Weapons vs water
Electric airsoft weapons are either sealed in plastic bags or transported in waterproof weapon bags. You can use your sidearm GBB in and out of water until you operate on land again.
SSMG´s operating role
First; we cannot provide everyone with life vests, and everyone has to use one. So you have to bring your own.
SSMG has on water transport capabilities up to about 50 people at once. BUT our suggestion is that we do not throw our eggs in to one basket by risking a total game fail if SSMG would have to go "offline" with its boats stranding all the players. We also believe that the event would have a very slow progress if SSMG would be responsible for all on water transportations. It wouldn´t be hard to figure out quick, whom to take out with our weapon simulating systems to cripple the situation fast and put a halt to the event. Therefore we suggest that you can operate independently from SSMG, wherever you want, whenever you want and however you want without having to wait around for us. Although, do not rule us out totally. We will be ingame with our boats.

Here are SSMG´s main missions:
-          Event security; Areal marine off game patrol, security and rescue. We have boats doing up to 50knots, we can be anywhere within a matter of minutes.
-          Deployment service; Assisting fractions with transportations of personnel and material that require more heavy duty boating and larger quantities. If we are working for a fraction, we will have fraction flags and light sticks at night in the fraction color. For eastern troops red flag or red lightstick e.g. We have four boats, giving us multiple options of how to assign them and to which fraction.
-          Level 5 Mil.Ex. [grade one] troop deployments and extractions.
Your basic required equipment:
-          Life vest
-          Waterproof flashlight for signaling
 
Your basic recommended equipment:
-          Wetsuit or drysuit
-          Drybags
-          Marine handheld radio