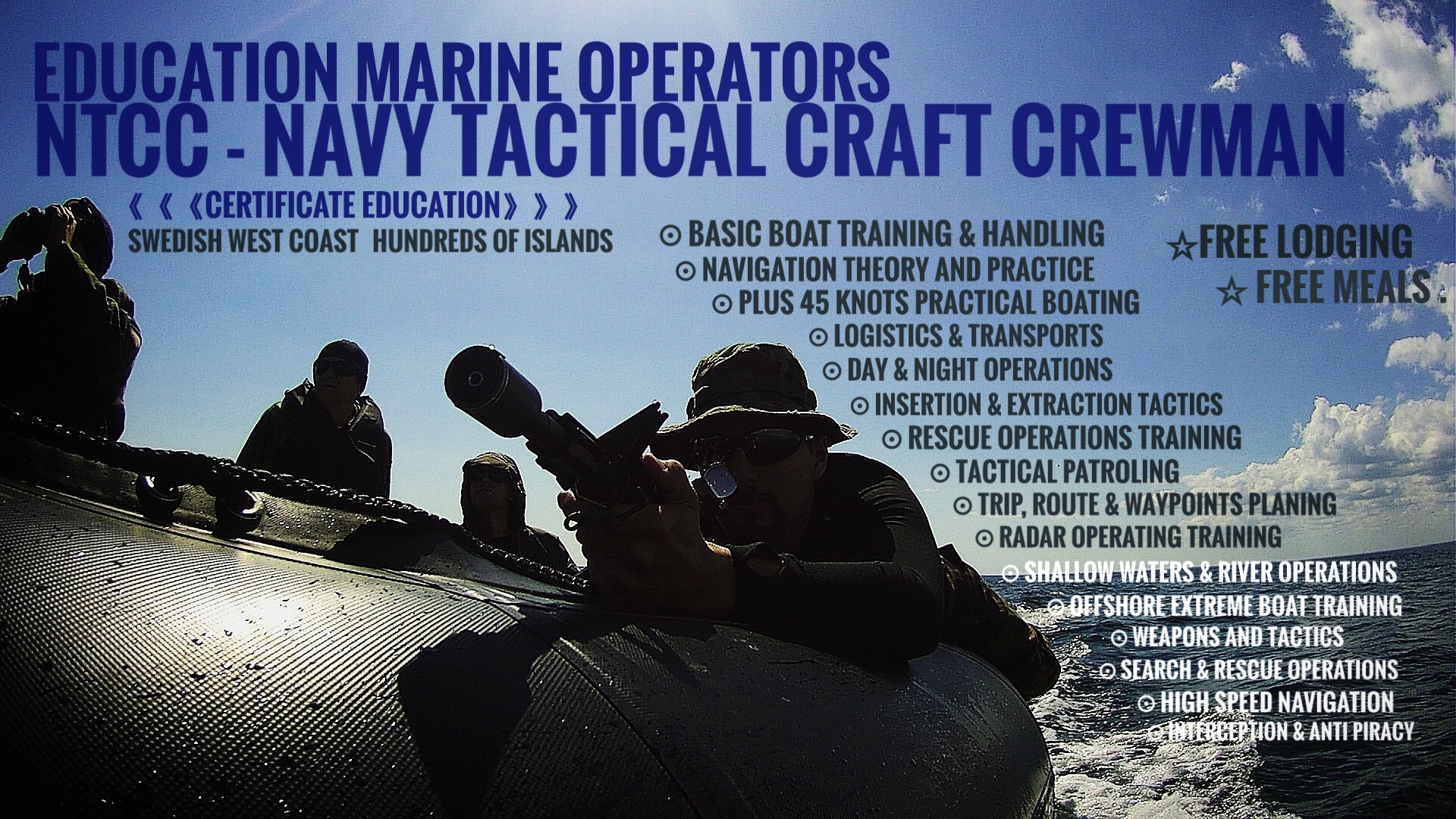 EDUCATION: MARINE OPERATORS

NTCC [NAVY TACTICAL CRAFT CREWMAN] 
Learn how to handle fast boats, navigate in extreme conditions and always bring your boat and crew back home or to its destination.  
No one offers these intense combinations outside the military. These certified courses are for those that want to become more than just a smooth sailor. 
[This course does not require any knowladge about boating. Anyone can attend.]
COURSES ARE HELD ALL YEAR AROUND AT ANY TIME AS SOON AS WE HAVE A MINIMUM OF FOUR (4) PARTICIPANTS.  
The archipelago
One of the worlds best marine archipelagos to learn advanced boating and navigation. Thousands of islands, passages, streams and channels with no tides, perfect to educate pro NTCC personnel that can handle any weathers and challenges.

Instructors 
Certified marine personnel and military personnel.


Dates and time
Courses are held every week from Wednesday to Sunday all year around.
First lesson starts Wednesday 08:00.
What is included in the course? 
·     Daily meals. 
·     Residence/Lodging.  
·     Course materials.  
·     Boats. 
·     Life jackets. 
·     Googles. 
·     Fuel and oils. 
·     Service costs, insurance, maintenance, storage. 
·     Land transports of personnel, boats and material. 
·     Material update coats, repairs and replacements. 
What you bring? 
·     Warm military clothing 
·     Gloves 
·     Compass 
·     Sleeping bag  
·     Cash .SEK 
·     Credit card 
·     Warm headwear

This course setup 
1.                                           Day one – Theory – Introduction, boating theory, meteorology, COLREG, Seamanship, navigation, charts etc. 
2.                                           Day two – Theory – Advanced navigation, EPIRB, SART, Radar, marine mathematics, risks and safety, trip and route planing etc. 
3.                                           Day three day – Practice – Advanced navigation, man over board exercise, trip and route executed. 
4.                                           Day three night – Advanced navigation night, night vision systems, trip planing, stealth mode operation. 
5.                                           Day four – High speed boating and handling +45knots, high speed navigation. 
6.                                           Day five – End. 
Our boats: 
Former military boats that can handle most challenges. We have four boats of different sizes and shapes. From high speed boats +50knots to smaller inflatables for shallow operations. Everything to cover the wide range of our courses. 
Lodging: 
We offer free residence to all our participants. You live in the archipelago on the Swedish west coast with 150m from the sea and the boats. 
Food: 
Either we cook it or we order something. Ordered food is not included.  
Fly in to the area: 
We offer pickup at Gothenburg, Landvetter airport.
Course languages:
Swedish or English
Min/Max participants: 
Min. 4 participants. 
Max. 7 participants.  
This is so that we can focus fully on our participants. 
Course literature: 
Provided by us  
Our courses without no required pre-knowledge about boats.
BBT - Basic Boat Training & Handling.

Navigation theory and practice.

Trip, route & waypoint planing.
Courses required BBT and Nav experience.
Plus 45kots practical boating.

High speed navigation.

Radar operating training.

Logistics and transports.

Day & night operations.

Insertion & Extraction tactics.

Rescue operation training.

Tactical patrolling.

Shallow waters & River operations.

Off shore extreme boat training

Weapons & tactics.

Search & Rescue operations.

Interception and anti piracy
Price: 2995 SEK/Person
Login and click Payments to sign up for the course. Course is held when we have 4pp signed.