NEW TANGO FRACTION – THE PEACEKEEPERS

UN inserted in the area to maintain stability between the conflict nations. The conflict can no longer be hidden from the rest of the world. International pressure resulted in immediate action by assigning peacekeeping troops to maintain stability in the area. Even countries that are involved in battles are now forced to act upon the situation. This fraction is the beginning of a new era in the battle of Tango.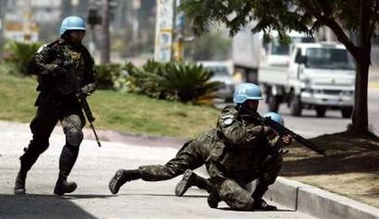 FRACTION DETAILS

* Uniforms: Any (pants and jacket have to be same
camo
)
* Head ware: UN Blue helmet, blue baseball cap or blue
boonie
hat. (nothing else)
* Weapons: Any
* Difficulty level: one-two (suitable for any airsoft player, beginners or those that are new to MilSim)

MISSION
Protect civilians and UN area, escort, control checkpoints, negotiations and other peacekeeping related missions.


NOTE
This fraction is simplified and always assigned to a smaller area/peacekeeping zones.